The Proper Use of a Home Fire Extinguisher
12/10/2021 (Permalink)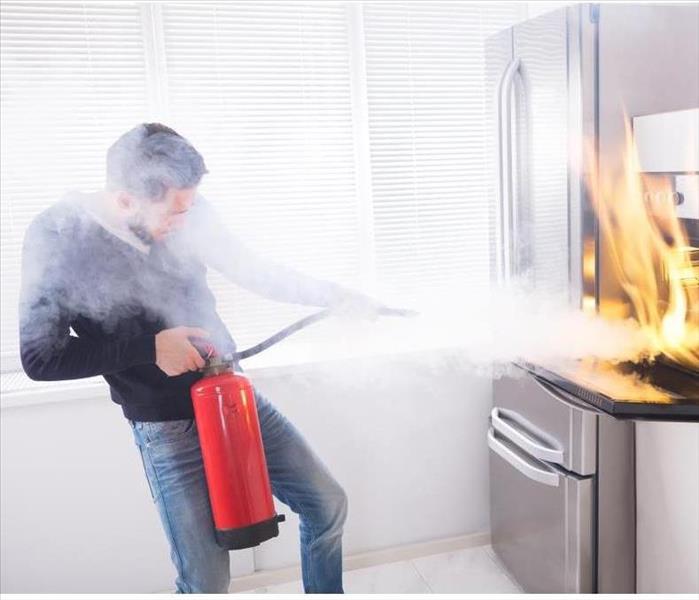 Fire damage restoration and cleanup are no problem for SERVPRO! If you've experienced a fire in your home, call the right company!
How To Use A Home Fire Extinguisher Correctly
There are many basic things you should know how to do in life such as managing a bank account or driving a car. Another skill - an important one that could save your life - is knowing how to operating a fire extinguisher. Many people in Sharon Hill, PA have an extinguisher in their homes, but the unfortunate truth is that they don't know how to use it.

Steps to Using a Fire Extinguisher

1. PULL the pin, breaking the tamper seal
2. AIM low, pointing the nozzle at the base of the fire
3. SQUEEZE the handle to release the extinguishing agent
4. SWEEP the nozzle back and forth at the base of the fire until out

Note: Take care not to touch nozzle – it gets cold enough to damage skin, Repeat steps one through four if flames do not go out completely. This four-step method, developed by the Occupational Safety and Health Administration, is called PASS. It is only effective on smaller blazes, such as a kitchen fire. If you cannot get it under control quickly, get everyone out immediately and call the fire department for help.

Help Your Family Learn to Use Them

Get an adequate number of extinguishers and keep them in locations where they will be most likely to save lives – near bedrooms, in the kitchen, near the furnace and in the garage. As part of an emergency escape plan, have your family watch a demonstration together, and make sure they know where they are kept and how to use them.

If a fire extinguisher isn't big enough to do the job and you end up with smoke, water and fire damage, get help with the cleanup from restoration and cleanup specialists in Sharon Hill, PA. Besides salvaging what they can of your belongings, they can clean the surfaces in your home of residue and smoke damage and odor, as well as cleaning up water damage. They can do the work and you can more quickly get back to living your life.