5 Storm Damage Prevention Measures
11/8/2021 (Permalink)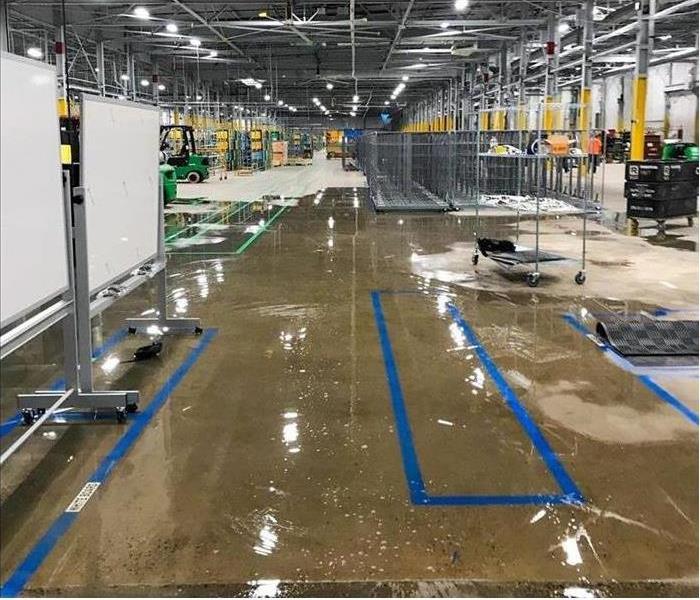 Storm damage is a headache. SERVPRO knows this, which is why we're available to respond to your call 24 hours a day, 7 days a week.
5 Ways to Prevent Storm Damage
Commercial properties may sustain damage from adverse weather in any season, but preventative maintenance can limit the extent of this damage. If you are anticipating a spring, summer, fall, or winter storm in Folcroft, PA, take these five measures to reduce the severity of storm damage.

1. Inspect the Building Envelope and Roof

The building envelope is designed to protect the structure and interior of a building. A damaged or deteriorating envelope may lead to leaks and secondary damage such as mold. You should schedule regular inspections to ensure that the envelope and roof remain watertight.

2. Clear the Drainage System

The drainage system plays an essential part in preventing leaks. Ensure that roof drains, downspouts, and gutters are clear, and that water will not pool around the base of a building. In the event of a winter storm, blocked drainage can result in icicles, ice dams, or the accumulation of heavy melting snow.

3. Trim Trees and Maintain Landscaping

Dead or overhanging tree branches can pose a serious threat to a building. A falling limb may damage the roof or breach the building envelope. Make sure that the landscaping is graded in a way that directs water away from the building.

4. Secure or Store Outdoor Items

Outdoor items such as trash cans or moveable seating can become flying debris in the event of a storm. Secure or store these items when adverse weather is on the way.

5. Obtain and Maintain a Generator

Consider a commercial standby generator as a fallback during power outages. You should have enough fuel to sustain critical systems and heat a building in freezing weather to prevent a pipe break.

Reduce the severity of spring, summer, fall, or winter storm damage by taking these preventative measures. Contact commercial storm and water damage specialists if damage occurs at a commercial property in Folcroft, PA.