How To Keep Your Business Secure After a Fire
5/16/2022 (Permalink)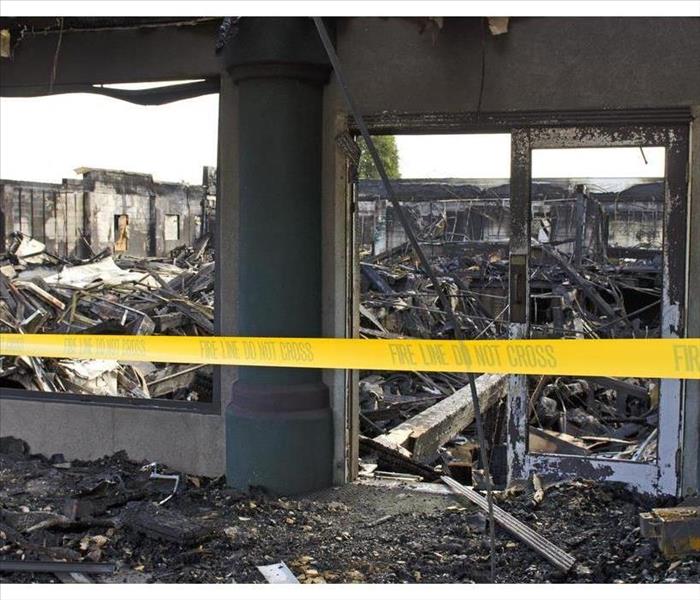 It can be difficult to deal with a building fire. Fortunately, there are a few steps you can take to secure your company's location.
How To Keep Your Company Safe After A Fire
One thing that no business owner wants to think about is their business catching on fire. However, you want to prepare effectively in the unfortunate event that your workplace succumbs to fire damage.
As well as knowing what to do during a fire, you have to consider what to do afterward. Dealing with a building fire in Folcroft, PA, can be difficult. Fortunately, you can take a few steps to secure your company location.
1. Board Up Openings in Your Building To Prevent Looting
Many openings throughout your building will likely appear after a major fire. These openings subject your property to theft, which is the last thing you want to experience after a building fire. Be sure to cover any gaps that people could enter through as soon as it is safe to do so.
2. Notify Law Enforcement
After a fire, you should notify local police immediately. Law enforcement will act in conjunction with boarding up to protect everything in your establishment from theft and vandalism in the event of fire damage.
3. Shut Off All Utilities
Immediately call your utility providers to stop service to your establishment temporarily. By canceling your utilities, you can save yourself from continually paying for utilities and protect your building from suffering additional electrical and water damage.
4. Take Pictures of Everything Before Cleaning Up
Protect your financial security and avoid extra hassle with the insurance company by photographing every aspect of your building before beginning the fire cleanup process. Taking this extra step can help you get additional compensation from the insurance company for covering professional fire restoration services.
Hopefully, you will never have to endure the experience of your building experiencing fire damage. If you do, however, it is essential to know the proper steps to ensure your security in Folcroft, PA.